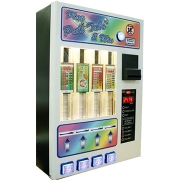 US ELITE 4 BV
Stock: Now in stock
Code:
Want to order this product?
Please log in or register now!
Product Description
Cutting edge 4 column pull tab ticket dispenser with bank note validator.

With a modern design coupled with innovative, cutting edge dispensing technology, the US ELITE 4 BV has established itself as the ultimate benchmark in the pull tab ticket vending market.
This dispenser brings together distinction & security to your customers' venue & a quality of excellence to your reputation. Attractive, classy look & design.
Superb quality, compact wall mounted unit. Latest ultra reliable & maintenance free EME "active jockey''dispensing mechanism.
All our dispensers are designed and manufactured by experts.
Features
Clear window to view ticket levels

Easy to load tickets

Self explanatory display panel

Columns can be set to ticket values of 25c, 50c, $1 & $2

PLAY ALL function may be set as : - Automatic dispensing over all columns at random - Automatic dispensing on selected columns only

Non-resettable cash and ticket counters for sales auditing

Individual removable dispensing columns

Comprehensive test facility

Long-life heavy duty vend buttons

Bill acceptor: Apex 7000


Optional coin acceptor to special order
PLEASE NOTE:
US / Canada Pull Tab Dispensers are available only from our exclusive distributor for USA and Canada, Messrs Schmitz Amusements or their agents.
1141 South 41st Street

Email: schmitzllc@aol.com
Website: www.schmitzamusements.com
Product Specification
Height = 603mm (23¾")

Depth = 197mm (7¾")

Weight = 21Kg

Mains Supply = 115V / 60Hz

Columns Capacity: 4 x 450 tickets
Maximum Ticket Size: 120mm x 49mm
Ticket Thickness: 0.6mm