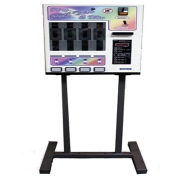 Floor Stands for ELITE Dispensers
Stock: Now in stock
Code:
Want to order this product?
Please log in or register now!
Product Description
A sturdy steel floor stand is used when the wall mounted bracket is not pratical. Unless an ELITE floor stand is required, all EME ELITE dispensers come with a wall mounted bracket universal to all models. Sturdy, self assembly stands supplied as:
1 x H shape base
2 x Uprights
1 x Machine Base
1 x Wall securing steel bracket for additional security / safety
All screws and fixings included
Optional 4 castors for mobility which allow the stand and dispenser to be wheeled easily behind safety / security shutters.
Product Specification
Material: Heavy duty steel
Colour: Black
Height: 1m (40")
Weight: 20kg
Please note dimensions apply to stand only.