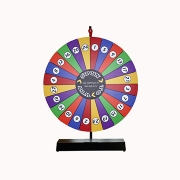 Wheel of Fortune, Medium
Stock: Now in stock
Code:
Want to order this product?
Please log in or register now!
Product Description
This versatile game can be used along with prizes for your larger events.
Use it for running drinks promotions in your club or pub for example; "Spin the wheel to determine your free shot!" etc.
Our 24 Segment, 2 Colour - Win or Lose Wheel is great for enhancing existing fundraising activities in place at your pub or club.
Whether it's giving your players a chance to win something extra on top of their raffle prizes, or a chance to be entered for another draw at a later date, this is a great way to add a bit of extra "buzz"

These are just a few ideas you could use this great product for, we're sure you can think of lots more!


Features
The wheel has a ticker arrow at the top, so that once you spin it, it will rotate smoothly and gradually slow down, making that great ticking noise.
Lightweight, easy to move about and easy to transport as it sits easy on the backseat of your car.
All wheels are easy to spin and also come fitted with a rear "turning wheel" to protect your punters against cheaters and keep your games fair!
All of our wheels are manufactured in the UK to the highest quality standards.

Please Note: There is a 2 - 4 week lead time on this item for manufacture and dispatch. There may be a delivery excess on this item due to it's size and weight.
Product Specification
Height: 104cm (41")
Diameter: 70cm (27 ½")
Weight: 6.6 Kg