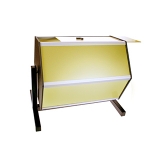 Gold Raffle Drum, Medium
Stock: Now in stock
Code: 3103x
Want to order this product?
Please log in or register now!
Product Description
This Special Edition Gold Raffle Drum will definitely add a touch of class to your Raffle.
Spend a little, get a whole lot more with this fantastic UK made drum!
All our drums are weighted so that once the drum has stopped spinning, the opening panel faces upwards, so the panel can be convieniantly opened so winning tickets can be drawn!

Constructed from aluminium and plastic materials, making it lightweight and durable, our drums are guaranteed to last, while always looking the part.
Our drums appear on TV, as well as at half time events at Premiership Football stadiums, and at exhibitions for the purpose of collecting business cards.
Features
Suitable for all types of Tickets, Balls, Counters, Discs & Business Cards
Smooth rotation
Easy opening panel
Clean white interior
Attractive design consisting of 6 brightly glitzy gold panels
Drum is mounted on a sturdy metal desktop stand
This drum can hold & shuffle approximately:
15,000 Cloakroom Tickets
4000 Business Cards
300 Ping Pong Balls
The estimations above are based on our recommendations of a maximum half full drum.
Product Specification
Height: 331mm
Length: 418mm
Drum Diameter: 313mm
Drum Volume: 22¼ litres (39 pints)
Weight: 3.6kg