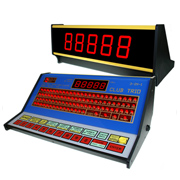 Club Trio
Stock: Now in stock
Code: 3991x
Want to order this product?
Please log in or register now!
Product Description
You can play Bingo, Raffle and Tote all on one machine.
The CLUB TRIO generates up to 5 digit numbers from 1 to 99,999 for the Bingo, Raffle and Tote games. A random number is generated when the SELECT button is pressed. That number will not be drawn again in that game. The number currently called is shown to the audience by large, easy to read digits on the audience panel. That same number is also shown on the caller's panel to be read and announced by the caller.
All Bingo numbers that have been called are registered on an easy to read 1 to 90 check board that is also on the caller's panel. This allows any potential winning ticket to be checked quickly, easily and accurately. New games can be started by pressing the CLEAR button which resets the machine and selecting the game required.
When running a Raffle, you will sell your raffle / lottery tickets from a roll or pad, but they must be consecutively numbered. Then you simply key-in the Starting and Finishing numbers of the tickets as you have sold them, i.e. the number of the first and the last ticket you have sold.
On the push of the SELECT / DRAW button or remote plunger, the machine will draw the winners for you within the numerical range of tickets you have sold. Up to 100 Selects / Draws made are stored in the machine's memory which allows any potential winning ticket to be checked quickly, easily and accurately. And there are no counterfoils to fold and worry about.
The Tote Double game can be set as "double numbers included" or "double numbers excluded".

Our TRIO machine allows the games to be played faster, fairly, faultlessly and easily for both the audience and the caller.
Features
Console construction with sloping caller's panel
Easy and simple to use – suitable for all ages, silent operation
Lightweight and easy to carry
Modern design and well manufactured
Adjustable to any length of Bingo 1 to 90 game and to any Jackpot / Snowball number
Adjustable to any length of Raffle 1 to 99,999
Adjustable to any length of Tote Double 1 to 99
Jackpot / Snowball audio and visual indicators
Caller controls timing of audience display allowing the caller to announce the call before displaying to the audience on release of the SELECT / DRAW button.
Long life NUMBER SELECT, dust & moisture proof long-life control keyboard with clearly labelled keys
Hand held plunger option
UK made
24 months manufacturer's warranty
Caller's Panel
1-90 numbered LED check board showing the bingo numbers called
Caller's numbers display with 5 digits, bright solid segment red 20mm (0.8") high displays
Numerical 0 – 9 pad with ERROR CLEAR
JACKPOT / SNOWBALL audio and visual indicators
Games set and check facilities: GAME SELECTION indicators, NUMBER OF CALLS / DRAWS made, NUMBER OF TICKETS sold, RAFFLE START and FINISH numbers, RAFFLE TICKETS ROLL-OVER, READY and CHECK-BACK / TOTAL GAME RECALL on up to 100 draws, Raffle numbers non-repeat / repeat indicator, Verification of Raffle Start and Finish numbers, choice of Tote double numbers included or excluded
Product Specification
Game Settings
Technical Information
Height = 149mm (6")
Width = 369mm (14¼")
Depth = 235mm (9¼")
Weight 3¼Kg
5 digit 57mm (2¼") high bright red display on the audience panel
5 digit 20mm (0.8") high bright red display on the caller's panel
230V / 50Hz mains supply, mains switch
Audience Display
5 digit 57mm (2¼") high bright red solid segment numbers
About Our Machines
EME LTD manufacture the most comprehensive range of electronic bingo and raffle machines to suit the size and type of a bingo and social venue as well as the customer's budget.
The height of the audience display usually determines user's choice of machine. We use only the best durable engineering materials, components and expert design to support and maintain the quality of our products.
As with all our leisure products, our CLUB TRIO machines is expertly built to last so we can offer you a 24 month warranty. Their quality and timeless smart design means that they will last for years to come.