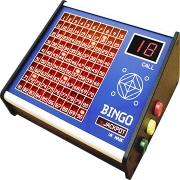 Bingola Budgie
Stock: Now in stock
Code: 1001
Want to order this product?
Please log in or register now!
Product Description
Console style with elevated sloping panel perfect for easy viewing. Easily select bingo numbers at random with the touch of a button. Ideal for small bingo events - an affordable replacement for noisy bingo cages.
Retains memory of current game in the event of power loss.
Features
Easy to use
Attractive design
Durable lightweight construction
Adjustable to any length of game up to 90
Long life "Select", "Clear" and "Recall" buttons
Retains memory of current game in the event of power loss
Full game recall & number of calls facility
"Jackpot/Snowball" feature with audio and visual indicators
Caller's side has a matrix of 1-90 numbered LEDs showing numbers which have been called and a display showing current call
Mains Supply 230V - 50Hz
Mains Swith: Fuse
Product Specification
20mm (0.8") High Red Caller's Panel Display
Height: 90mm (3.75")
Width: 220mm (8.75")
Depth: 180mm (7") at base
Weight: 1.5 Kg