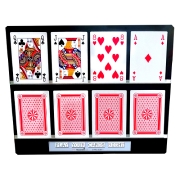 Play Your A5 Cards Right - Model A5DT 4 x 2
Stock: Now in stock
Code:
Want to order this product?
Please log in or register now!
Product Description
This is a professional, sturdy and durable desktop model with a folding stay that uses A5 size playing cards.
Ideal for use in Pubs, Clubs, School Fetes and other fundraising events.
Based on the popular TV show everyone remembers where the participant has to guess whether the next card is higher or lower than the current one. "Higher! Lower! Higher! Lower!"

There is also space at the top and bottom of the board to put your company details such as logos, web addresses, or telephone numbers.
Product Specification
Contains:
Play Your Cards Right board
A5 Playing Cards with 52 playing cards and 2 jokers
Dimensions:
Board size: 59 x 46 cm
Board material: Black Foamex 10mm thick, with aliminum strips
A5 Card Dimensions:
Height: 16.8 cm
Width: 11.7 cm