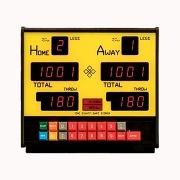 DS 180
Stock: Now in stock
Code: 5001
Want to order this product?
Please log in or register now!
Product Description
Darts players have no more reason for not winning. Help players and members of darts teams keep score accurately with this league approved Darts Scorer.
No more messy chalk!
Games of any number such as 501 and 301 can be selected. You then enter the throw of the home and away leg, and the scorer does the rest.
The keys are the same as computer keys, and easy to use.
A great addition to any pub or club darts corner.
Retains memory current game in the event of power loss.
Features:
Any game up to 9999
Full game recall
Error recall and correction
Up to 9 players per team
Automatic team throw indicators
Automatic change over of sides
Rejection of bust scores
One touch selection of 501 and 301 games
Option of home game only for solo practice
Long life button keyboard
Wall mounted
Continuous display of: Last throw, Wins/Legs of both teams, Games played and Scores & totals
Product Specification
20mm (0.8") High Displays
Height: 235mm (9.75")
Width: 270mm (10.5")
Depth: 40mm (1.5")
Weight: 1.5kg