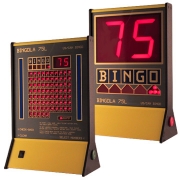 Bingola 75L
Stock: Currently out of stock
Code: Bing75L
Want to order this product?
Please log in or register now!
Product Description
102mm (4") high bright red audience display and with 25mm (1") high LED B-I-N-G-O prompts on this US style
1 to 75 bingo machine. Bingo in both the USA and Canada is played using numbers 1 to 75 on a 5 by 5 matrixed bingo ticket. The players can also cross off lines of 5 in any direction creating extra chances of winning a prize.

This electronic machine generates numbers for the 1 to 75 bingo games. A random number is generated when the SELECT button is pressed. That number will not be drawn again in that game. The number currently called is shown to the audience by large, easy to read digits on the audience panel. That same number is also shown on the caller's panel to be read and announced by the caller. All numbers that have been called are registered on an easy to read 1 to 75 check board that is also on the caller's panel. This allows any potential winning ticket to be checked quickly, easily and accurately.
New games can be started by pressing the CLEAR button which resets the machine. On both sides of the machine, LEDs for the letters B-I-N-G-O will light up if any of the possible numbers in that letter group are called:
"B" for the 1 to 15 number group
"I" for the 16 to 30 number group
"N" for the 31 to 45 number group
"G" for the 46 to 60 number group
"O" for the 61 to 75 number group
On the caller's side they give the caller a prompt to announce the B-I-N-G-O letters.

Our bingo machines allow the game of bingo to be played faster, faultlessly and easily for both the audience and the caller.

Features
Upright construction
Easy and simple to use – suitable for all ages, silent operation
Lightweight and easy to carry
Modern design and well manufactured
Adjustable to any length of game and to Jackpot / Snowball number up to 75.
Jackpot / Snowball audio and visual indiactors
Caller controls timing of audience display allowing the caller to announce the call before displaying the number to the audience on release of the SELECT / DRAW button
Long life SELECT / DRAW, BOARD CLEAR and RECALL control buttons
UK made
24 months manufacturer's warranty

Caller's Panel
1-75 numbered LED check board showing the numbers called
Caller's display with 20mm (0.8") bright red digits
Last number recall and display of "last call" and "number of calls made" facility
"JACKPOT / SNOWBALL" facility with audio and visual indicators
B-I-N-G-O LED prompts
Product Specification
Audience / Caller's Display
102mm (4") high bright read solid segment call display
25mm (1") high LED B-I-N-G-O prompts
Technical Information
Height = 360mm (4")
Width = 160mm (9")
Depth = 130mm (5")
Weight = 2kg
102mm (4") high bright red display on audience panel
20mm (0.8") high bright red display on callers panel
MODEL 75L115
= 115V / 50-60Hz supply via 15V AC mains adapter and power switch
MODEL 75L230
= 230V / 50Hz mains supply, mains switch
Please check your mains supply voltage before ordering
About Our Machines
EME LTD manufactures the most comprehensive range of electronic bingo machines to suit the size and type of a bingo venue as well as the customer's budget. The height of the audience display usually determines user's choice of machine.
We use only the best durable engineering materials, components and expert design to support and maintain the quality of our products.
As with all our leisure products, our bingo machines are expertly built to last so we can offer you a 24 month warranty. Their quality and timeless smart design means that they will last for years to come.