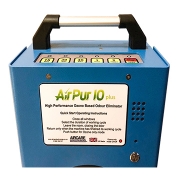 AirPur 10 Plus
Stock: Now in stock
Code:
Want to order this product?
Please log in or register now!
Product Description
The AirPur 10 PLUS with its ozone output of 10 grams per hour, high airflow and automatic ozone residue destruct and ozone generation only mode, makes it perfect for use in large rooms in hotels, care homes, dining rooms, static caravans, halls, as well as for professional property cleaning and restoration services.
Treats a large hotel room from 15 minutes.
5 time settings depending on level of odour and size of room.
Facility to set ozone destruct only cycles.
Facility to set ozone generation only cycles.
Lightweight and portable. Also available as mobile on castors or with wheels and pulling handle.
Efficient and economical with low running and maintenance costs.
Saves you time and money on labour, effort and chemicals.
Indoor use only.
Meets and exceeds current Health and Safety guidelines.
POA
Product Specification
| | |
| --- | --- |
| Ozone Output | 10g per hour |
| Dimensions | 420 x 265 x 225mm |
| Weight | 9.5kg approx |
| Style | Portable or Mobile |
| Coverage | 500m3 |
| Timer Presets | 5 |
| Running Time | 15, 30, 60, 120 and 180 minutes |
| Ozone Destruct | Yes |
| ON / OFF Switch and Fuse | Yes |
| Mains Supply | 240V/50hz or 115/60Hz - 140W |
| Filter Lifetime | 2000 hours approx |
| CE Approval | Electrical Safety |
| Warranty | 12 months |