EME (Electronic & Mechanical Engineering) Ltd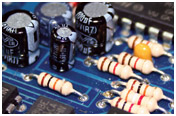 The Home of Good Engineering Practice
EME LTD offers you products & services that are of the highest quality, reliability, style and value.
EME LTD has all necessary Electronic and Mechanical Design, Development Manufacturing and other support facilities to produce a diverse range of products that are used across a number of different areas of industry.
Equipment produced by EME LTD has long enjoyed an excellent reputation, earned by our innovative use of new technology, coupled with our commitment to long-term research and development.
We work to recognized UK and European quality standards resulting in many satisfied industrial, telecoms and amusement industry customers.EME LTD is an approved British Telecom supplier.
EME leisure and gaming products are available in the UK and worldwide from trade distributors, re-sellers, amusement and vending machines operators.
Industrial and Telecommunications products can be purchased directly from EME LTD.
Custom made equipment is produced to a mutually agreed specification.
Non-disclosure and confidentiality agreements can be entered into.
All products are covered by comprehensive warranties.
EME LTD also distributes / wholesales a selected range of products.